Welcome to the Health Hub
The doors to the new fitness and rehabilitation centre opened on the 4th June 2018 and is located on the ground floor of building 10.0.
The Centre has a full range of the latest fitness equipment including a fantastic functional rig training area! A varied range of classes are available and are designed to suit many ability levels. We also have an onsite team of fitness coaches to help and assist members.
Our opening times are 24 hours / 7 days a week.
Membership & Classes
MONDAY
TUESDAY
WEDNESDAY
THURSDAY
FRIDAY
Dimensions HIIT
6:45am – 7:30am
Spin
6:45am – 7:30am
Core-Running
6:45am – 7:30am
Spin
6:45am – 7:30am
Tabata HIIT
6:45am – 7:25am
–
–
Rig HIIT
12:30pm – 1:00pm
–
Sprint
12:30pm – 1:00pm
Boxercise
4:15pm – 4:55pm
Combat Conditioning
4:15pm – 4:55pm
–
Boxercise
4:15pm – 4:55pm
Group X
2:30pm – 3:15pm
Spin
5:00pm – 6:00pm
Yoga
5:00pm – 6:00pm
Spin
4:45pm – 5:45pm
Hatha Yoga
5:00pm – 6:00pm
–
MEMBERSHIP NEWS!
From June 2019 ALL contractors are eligible to sign up to the Health Hub. Please look at the FAQ for more guidance on how to do so.

Membership is subject to approval from BMW with limited spaces available. Please see the information in the FAQ website to see if you qualify for membership.
NEW! – USE THE HEALTH HUB THE PAY AS YOU GO WAY!
NOW AVAILABLE: £7 PER GYM SESSION FROM JANUARY 2019!
The Health Hub successfully introduced pay as you go classes for non-members in 2018, now we are taking the next step!
Are you only interested in attending casually*? Now you are able to! You can try any of our facilities without having to pay an ongoing membership fee.
*For casual PAYG gym sessions, you can ONLY use the Health Hub Monday – Friday, between 07:30 to last entry 17:00. (Please note: Weekends, bank holidays and shut downs: you are not eligible to use the facility UNLESS you are a member)
Every member MUST have completed a gym induction prior to the use of any of the facilities. The induction is compulsory and will give you the basic information needed on the gym equipment, health and safety and the facility rules. Without it you will not be able to attend casual gym sessions.
Please book your induction by emailing manager@minihealthhub.co.uk or booking directly in the gym.
Also available:
£5 per class for non-members!
Full membership – only £15 per month; includes:

all classes on our timetable
free fitness programmes
reviews
fitness assessments
anytime use of the gym.
To register and to be able to book classes online please click Join Now below.
Unsure how to book?
Visit our booking website.
Click on register and link.
Enter the details that the page requires (email/password etc.).
You should then receive a confirmation email.
Click on the link sent in the email.
Enter the details that the page requests.
From the 'My Account' screen you can make a booking, view/amend a booking and view the class timetable.
WHO CAN JOIN THE HEALTH HUB?
We are pleased to say anyone on plant can join the Health Hub. BMW Associates, Gi group, Gattaca employees can all join the health hub online
All other contractors must visit the Health hub to join – Please view the contractor sign up process
Health Hub Location
Plant Oxford. Building 10.0, ground floor.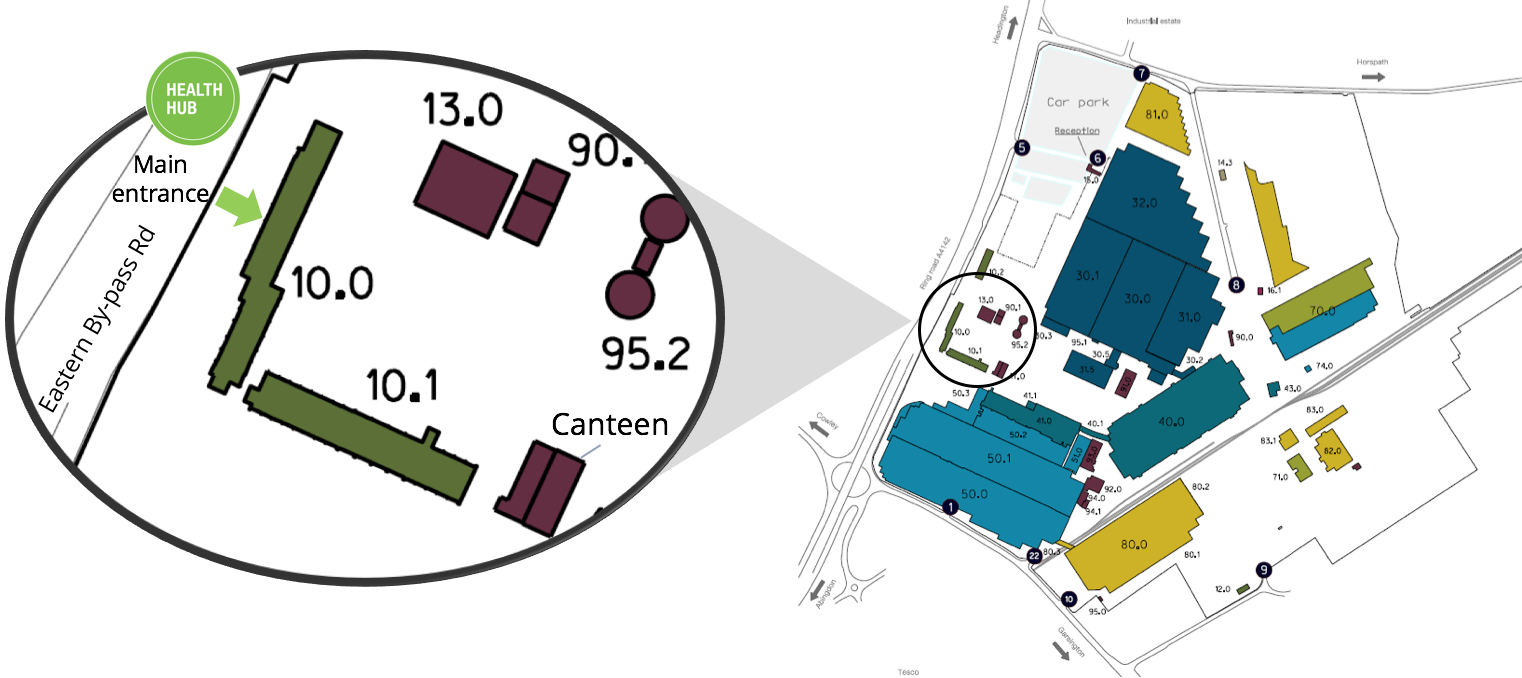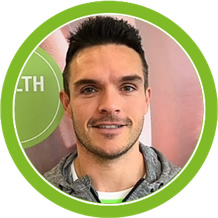 Danny Kavanagh
Club Manager
Throughout my childhood I was a big kid & into my 20's I got up to 18 stone & a 46" waist. I then got into training & saw results so it became a real passion. I like working with & helping people to achieve their goals. The body has no limits, it's the mind that stops you.
My theories on exercise are:
The mind will always give out before the body!
You get out what you put in – something is always better than nothing!
I would prefer you to have to stop because it is hard than leave saying that was easy. That way you'll achieve!
Qualifications:
BTEC Sports Science National Diploma
Level 3 Personal Trainer
Level 3 GP referral
Sports Injuries
Obesity & Weight Management
Strength & Conditioning
First Aid
Sports Nutrition
Spin
Circuits
Kettlebell
Tabata HIIT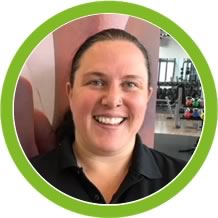 Heather England
Personal Trainer
I have been an active person most of my life and after spending 20 years in the RAF stuck behind a desk doing HR I decided it was time for a change and follow my love of health and fitness. I love spinning and I have a real passion for Boxercise & MMA-inspired fitness. I find it very rewarding helping people achieve their goals, no matter how small.
My theories on exercise are:
You only get out what you put in; it takes time but IS achievable. The first step is often the hardest, but take that step and enjoy the journey to a healthier, fitter you. Strength is not a size and doesn't come from things you can do, it's from overcoming things you thought you couldn't.
Qualifications
Lvl 3 Personal Training
Lvl 4 A&P
Lvl 3 Pre/Post Natal
Spinning
Boxercise (Beginner & Advanced)
Kickboxercise
Group Sparring
Hatha Yoga
Circuits
Kettlebells
MMA Strength & Conditioning
Lvl 5 Adv. Sports Ex. Nutritional Advisor
Lvl 5 Adv. Dietary supplements Advisor
Lvl 3 Food Allergies & Intolerances
Weight loss
2nd Degree Usui Reiki Practitioner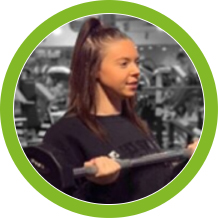 Rebecca JOHNSON
Personal Trainer
I have been a member and attended gyms on and off for around 3-4 years now, but never felt like I was getting where I wanted to be. I've yoyo dieted, started and given up more times than you can count. It wasn't until I really focused on educating myself on exercise and nutrition that I was able to turn it into a sustainable lifestyle and help myself achieve my goals. Now I want to help all of you!!
For me, exercise isn't just about the benefits it has on my general health, but it also plays a big part in helping my mental health!
My theories on exercise are:
You should be training your body because you love it and want to look after it, not because you hate it or want to change it.
You're both mentally and physically stronger than you think you are!
Qualifications:
Level 2 Fitness Instructor
Level 3 Personal Trainer
Spinning Instructor
Circuit Training Instructor
Bootcamp Instructor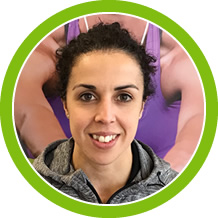 Emma Forsyth
Fitness Instructor
I've always been an active sporty person. All through school I did athletics and football. I played football for Oxfordshire then onto a ladies team. I thought I would step it up and finally get qualified in the fitness world as I love helping achieve goals and seeing results.
My theories on exercise are:
Set your vision of where you want to see yourself
Accept there will be failures and setbacks but always learn from your mistakes
Fitness is more then a physical challenge it's a mental one
Healthy is an outfit and its looks different on everybody
Qualifications
Level 2 Fitness Instructor

Level 3 Personal Trainer

Pilates Instructor Qualification

First Aid

Spin
Frequently Asked Questions
What is the Gym called?
The Health Hub
Where is the Health Hub?
In Building 10.0 ground floor. The entrance is on the side of the ring road.
How much will I have to pay?
£15 per month
How do I pay?
Via direct debit
How long is the membership for, when can I renew my membership?
It will be a one month rolling contract, with a one month notice period should you wish to cancel.
How do I join?
Please visit our online booking platform or contact us.
Who can join the Health Hub?
BMW Associates, Gi group, Gattaca employees can all join the health hub online. All other contractors must visit the Health hub to join – Please view the contractor sign up process here.
Who do I raise any issues with?
Any Gym related issues should be raised with the Health Hub team.
What are the opening and closing times of the Gym?
We are open 24/7.
WHAT DO I GET FOR MY MEMBERSHIP?
Unlimited use of the health hub 24/7
A full induction to the health hub
Fitness Programmes & reviews
Fitness assessments
Group exercise classes
Access to our Personal Packages (additional charges apply). To book please see a member of the health hub team.
What classes can I expect?
During the manned hours there are a variety of classed which are suitable for all levels. The timetable is subject to change. Please see the Group exercise timetable.
What facilities does the Health Hub have?
The facilities comes with showers and lockers. The trainer will be available at certain hours to support and help with training plans.
How can I access the Health Hub? Do I get a code?
To enter the building you require your BMW ID card, to enter the actual training area you need a gym access card, which you receive after your successful induction.
Can I go during working hours?
Members may only use the facility outside their normal working hours and must not use them during paid breaks.
CAN I TAKE PHOTOS/VIDEOS IN THE HEALTH HUB?
Photography and videography is not permitted anywhere on site unless a permit has been approved in ELAN.
If there is no Health Hub staff or fellow health hub members, can I train on my own in the Health Hub?
Yes you definitely can.  Scroll to the Health and Safety information and click on the 'lone training process'.
If you have any further questions please contact the Health Hub team below.
Contact Us
Email:
manager@minihealthhub.co.uk
Telephone:
01865 770 380 (Lines open 6:30am – 6:30pm)
Address:
Building 10.0
MINI Plant Oxford
Eastern Bypass Road
Oxford
OX4 6NL
Health & Safety
We would like to remind you to adhere to the following health & safety practices to ensure your personal safety when using the Health Hub:
Pay full attention during your induction programme. Membership cards will only be issued upon successful completion of the induction programme which includes personal hygiene, safety practices such as handling and use of gym equipment.
The health hub has a Lone Training Process – Please click on the link below to view this process.
A panic button & an emergency telephone line are in place and linked to the security control room.
Please view the full Health & Safety documents & lone training policy below.
Personal hygiene measures when using the facility:
Suitable clothing and footwear must be worn when exercising.
Lockers will be emptied on a daily basis.
Please bring a clean, small towel to wipe down equipment after use.
No food will be allowed inside the Health Hub.
Please view the full Health & Safety document below.
Personal Health Statement
Read the Personal Health Statement first, by clicking here. Once you've read this, please complete the below form.
Terms & Conditions
To view our terms & conditions, please download the below document.