Welcome to the Health Hub
The doors to the new fitness and rehabilitation centre opened on the 4th June 2018 and is located on the ground floor of building 10.0.
The Centre has a full range of the latest fitness equipment including a fantastic functional rig training area! A varied range of classes are available and are designed to suit many ability levels. We also have an onsite team of fitness coaches to help and assist members.
Our opening times are 24 hours / 7 days a week.
We have made a number of changes to ensure your safety in relation to COVID-19. Please read our Gym rules document before returning.
Membership & Classes – Classes start 1st June
MONDAY
TUESDAY
WEDNESDAY
THURSDAY
FRIDAY
Dimensions HIIT
06.45 (30mins)
Spin
06.45 (45mins)
R3dZone HIIT
06.45 (30mins)
Spin
06.45 (45mins)
4×4 HIIT
06.45 (30mins)
–
–
–
–
Sprint
12:30pm (30mins)
Box-Fit
16.00 (30mins)
Box-Fit
16.00 (30mins)
LBT Circuits
16.00 (30mins)
Box-HIIT
16.00 (30mins)
HIIT
14.35 (25mins)
Box-Strength
16.45 (45mins)
Bootcamp
16.45 (45mins)
Spin
16.45 (45mins)
Circuits-Strength
16.45 (30mins)
–
MEMBERSHIP NEWS!
ALL contractors are eligible to sign up to the Health Hub. Please look at the FAQ for more guidance on how to do so.

Membership is subject to approval from BMW with limited spaces available. Please see the information in the FAQ website to see if you qualify for membership.
NEW! – USE THE HEALTH HUB THE PAY AS YOU GO WAY!
NOW AVAILABLE: £7 PER GYM SESSION!
The Health Hub successfully introduced pay as you go classes for non-members in 2018, now we are taking the next step!
Are you only interested in attending casually*? Now you are able to! You can try any of our facilities without having to pay an ongoing membership fee.
*For casual PAYG gym sessions, you can ONLY use the Health Hub Monday – Friday, between 07:30 to last entry 17:00. (Please note: Weekends, bank holidays and shut downs: you are not eligible to use the facility UNLESS you are a member)
Every member MUST have completed a gym induction prior to the use of any of the facilities. The induction is compulsory and will give you the basic information needed on the gym equipment, health and safety and the facility rules. Without it you will not be able to attend casual gym sessions.
Please book your induction by emailing manager@minihealthhub.co.uk or booking directly in the gym.
Also available:
£5 per class for non-members!
Full membership – only £15 per month; includes:

all classes on our timetable
free fitness programmes
reviews
fitness assessments
anytime use of the gym.
To register and to be able to book classes online please click Join Now below.
Unsure how to book?
Visit our booking website.
Click on register and link.
Enter the details that the page requires (email/password etc.).
You should then receive a confirmation email.
Click on the link sent in the email.
Enter the details that the page requests.
From the 'My Account' screen you can make a booking, view/amend a booking and view the class timetable.
WHO CAN JOIN THE HEALTH HUB?
We are pleased to say anyone on plant can join the Health Hub. BMW Associates, Gi group, Gattaca employees can all join the health hub online
All other contractors must visit the Health hub to join – Please view the contractor sign up process
Health Hub Location
Plant Oxford. Building 10.0, ground floor.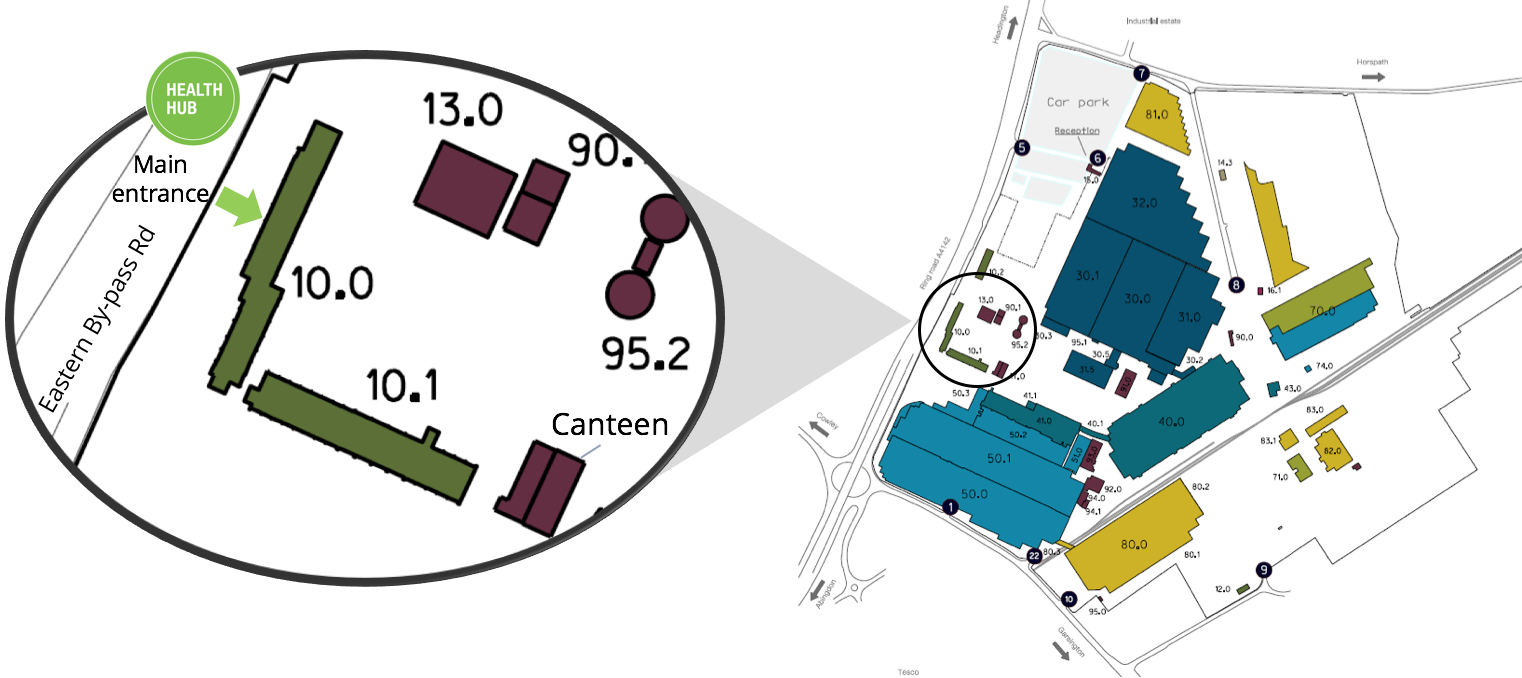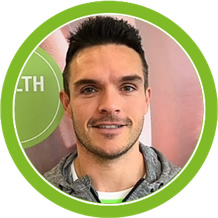 Danny Kavanagh
Club Manager
Theories on Exercise:
The mind will always give out before the body
Why look at the past, you're not heading that way, push for the future.
I would prefer you to stop because you are working hard than leave saying that was easy
Area of Expertise:
Weight loss
Strength Work
Muscular Fitness
Medical Referral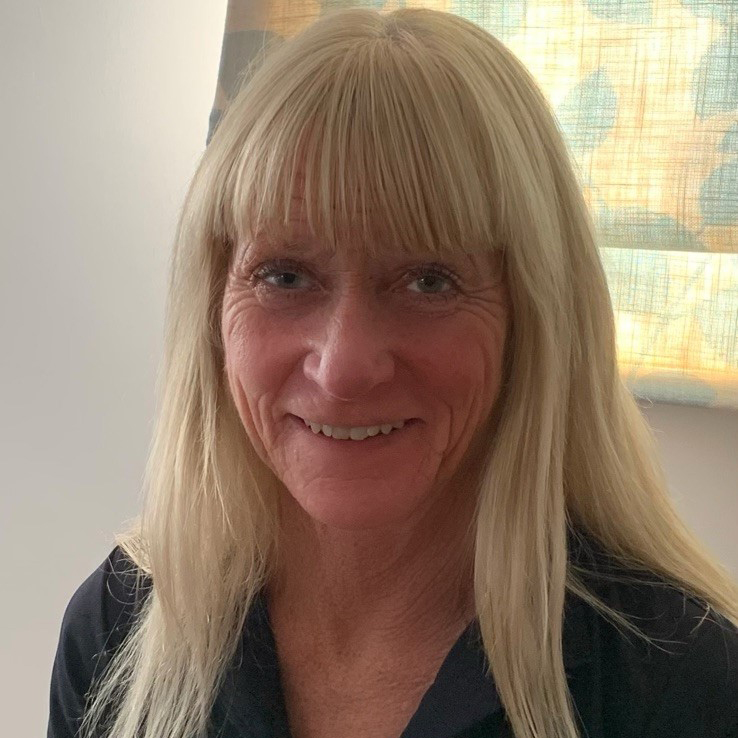 Joyce Grant
Personal Trainer

Theories on Exercise:
You may not feel like doing that workout but you will feel way better when you have done it.
Physical fitness slows down your biological age clock – keeps you younger.
Pushing your body will invigorate your mind – help you solve problems.
Area of Expertise:
Strength and conditioning
Functional training
Nutrition
Rehabilitation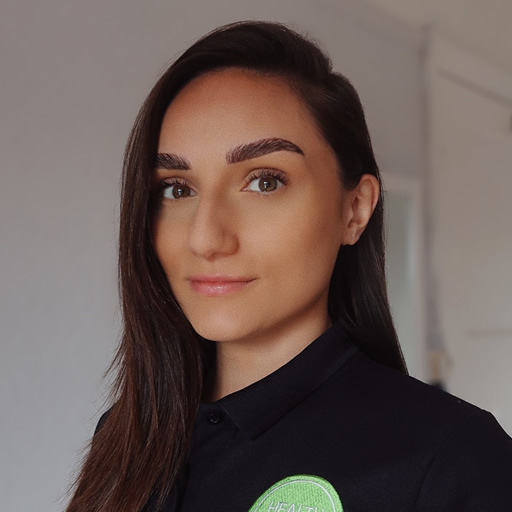 Amelia Mirto
Personal Trainer

Theories on Exercise:
Don't watch the clock, just keep going
Rise up and attack the day with enthusiasm
Set the bar and conquer
Area of Expertise:
Strength Training
Weight Lifting
Functional Training
Sports Therapy
Frequently Asked Questions
What is the Gym called?
The Health Hub
Where is the Health Hub?
In Building 10.0 ground floor. The entrance is on the side of the ring road.
How much will I have to pay?
£15 per month
How do I pay?
Via direct debit
How long is the membership for, when can I renew my membership?
It will be a one month rolling contract, with a one month notice period should you wish to cancel.
How do I join?
Please visit our online booking platform or contact us.
Who can join the Health Hub?
BMW Associates, Gi group, Gattaca employees can all join the health hub online. All other contractors must visit the Health hub to join – Please view the contractor sign up process here.
Who do I raise any issues with?
Any Gym related issues should be raised with the Health Hub team.
What are the opening and closing times of the Gym?
We are open 24/7.
WHAT DO I GET FOR MY MEMBERSHIP?
Unlimited use of the health hub 24/7
A full induction to the health hub
Fitness Programmes & reviews
Fitness assessments
Group exercise classes
Access to our Personal Packages (additional charges apply). To book please see a member of the health hub team.
What classes can I expect?
During the manned hours there are a variety of classed which are suitable for all levels. The timetable is subject to change. Please see the Group exercise timetable.
What facilities does the Health Hub have?
The facilities comes with showers and lockers. The trainer will be available at certain hours to support and help with training plans.
How can I access the Health Hub? Do I get a code?
To enter the building you require your BMW ID card, to enter the actual training area you need a gym access card, which you receive after your successful induction.
Can I go during working hours?
Members may only use the facility outside their normal working hours and must not use them during paid breaks.
CAN I TAKE PHOTOS/VIDEOS IN THE HEALTH HUB?
Photography and videography is not permitted anywhere on site unless a permit has been approved in ELAN.
If there is no Health Hub staff or fellow health hub members, can I train on my own in the Health Hub?
Yes you definitely can.  Scroll to the Health and Safety information and click on the 'lone training process'.
If you have any further questions please contact the Health Hub team below.
Contact Us
Email:
manager@minihealthhub.co.uk
Telephone:
01865 770 380 (Lines open 6:30am – 6:30pm)
Address:
Building 10.0
MINI Plant Oxford
Eastern Bypass Road
Oxford
OX4 6NL
Health & Safety
We would like to remind you to adhere to the following health & safety practices to ensure your personal safety when using the Health Hub:
Pay full attention during your induction programme. Membership cards will only be issued upon successful completion of the induction programme which includes personal hygiene, safety practices such as handling and use of gym equipment.
The health hub has a Lone Training Process – Please click on the link below to view this process.
A panic button & an emergency telephone line are in place and linked to the security control room.
Please view the full Health & Safety documents & lone training policy below.
Personal hygiene measures when using the facility:
Suitable clothing and footwear must be worn when exercising.
Lockers will be emptied on a daily basis.
Please bring a clean, small towel to wipe down equipment after use.
No food will be allowed inside the Health Hub.
Please view the full Health & Safety document below.
Personal Health Statement
Read the Personal Health Statement first, by clicking here. Once you've read this, please complete the below form.
Terms & Conditions
To view our terms & conditions, please download the below document.